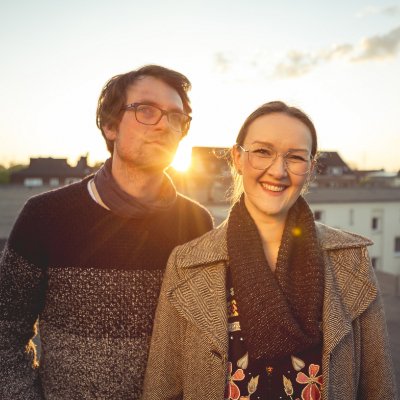 VALENTINE & THE TRUE BELIEVERS
So lang Valentina und Malte sich kennen, machen sie zusammen Musik. Sie gründeten 2008 die Band "Valentine & The True Believers" mit der sie ihre deutschen, englischen, französischen und plattdeutschen Lieder arrangiert und produziert haben. Aktuell sind sie live vor allem als Duo oder Trio unterwegs – auf bisher über 400 Bühnen haben sie zusammen gespielt: Auf Straßen und Marktplätzen in Deutschland, Frankreich und Spanien, auf Festivals und Stadtfesten, in Kneipen und Cafés. All diese Einflüsse finden sich in den Texten und der Musik wieder: zwischen Pop und Chanson, zwischen Folk und Soul, fühlen sie sich nie einem Genre, nur ihren Liedern verpflichtet.
Mit dem Kauf eines Tickets akzeptierst Du:
– dass der Zutritt nur für Personen ab 18 Jahren gestattet ist 
– dass Junggesell:Innenabschiede keinen Zutritt haben.
– dass Du nur zur ersten Abfahrt einen garantierten Zutritt hast
– dass Du bei einem Bruch dieser und der restlichen Regeln keinen Anspruch auf eine Erstattung des Ticketpreises hast.
– sowie den Rest unserer AGBs, die Du hier lesen kannst.