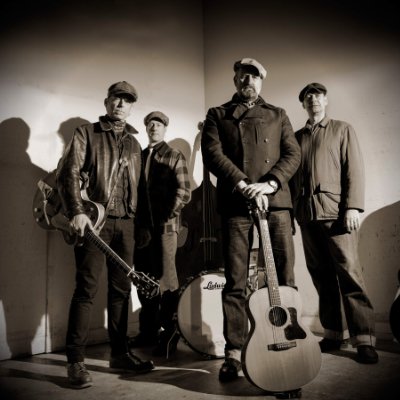 Northern Shuffle from Hamburg
Henry Marrs sonorer Gesang, der von Leben, Liebe und Schmerz erzählt…
El Rey Ulis Gretsch-Gitarre, die singt, grollt und scheppert… dazu Jokers wilder Rockabilly-Bass und die coolen Swing Grooves aus Matthias Friedels altem Ludwig Drumset. Welcome to The Porthounds!
In ihren Songs erkunden sie die Grenzen zwischen Roots-Rock, Country, und 60s Rock'n'Roll. Von Hamburg nach Memphis, von Detroit nach Liverpool und zurück – das ergibt, was die Porthounds ihren Northern Shuffle nennen! Gut abgehangen, rauh und unpoliert, aber virtuos serviert.