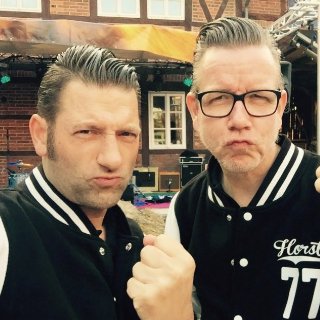 HORST WITH NO NAME ORCHESTRA + PARTY
HORST WITH NO NAME ORCHESTRA – Hamburgs einziges Two-Men-Band-Orchestra. Ausgestattet mit Schlagzeug und Gitarre werden die Horstis dem geneigten Publikum ihren explosiven Garage-Rock'n'Roll um die Ohren hauen.
Der minimalistische Sound des Garage-Blues-Punk-Rock`n`Roll-Sängers und Gitarristen ist hausgemacht, billig und einfach zu durchschauen aber schwer zu kopieren. Unterstützt wird Horsti als Orchestra vom Ausnahme-Schlagzeuger Tomate, mit dem er niemals probt aber schon gelegentlich aufgetreten ist. Manchmal klappt das Zusammenspiel sogar…
Eine mitreißende Show – Entertainment at it's best!