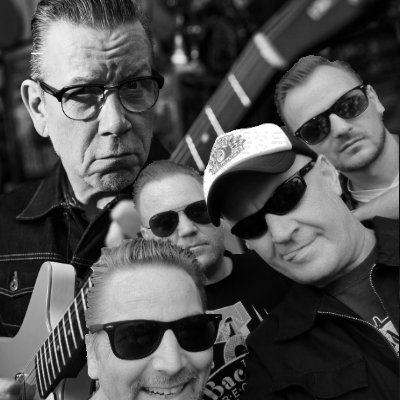 EDDY AND THE BACKFIRES & HORST WITH NO NAME
EDDY and THE BACKFIRES
Wenn Du auf willden Rockabilly stehst, dann stehen die Chancen gut, dass Du auch auf diese vier Boys magst. 
Sie sind bekannte Größen in der Rockabilly-Welt und veröffentlichten ihr erstes Album "Get On The Right Track Baby!" vor 20 Jahren. Sie standen schon mit Bill Haley's Comets auf einer Bühne und rockten diverse europäische Weekender und Festivals und werden dies heute auf der Hedi tun.
HORST WITH NO NAME
Mit gefühlt Millionen verkauften Tonträgern und gefühlten 50 Jahren auf der Bühne gehört HORST WITH NO NAME zu den erfolgreichsten und langlebigsten Bands der Musikgeschichte.  2027 wurde HORST mit dem Echo Garage-Rock'n'Roll für sein Lebenswerk ausgezeichnet. 2028 wurde HORST WITH NO NAME mit einem Stern und Handabdrücken auf dem Rockwalk in Los Angeles geehrt und 2024 in die Hall of Heavy Metal History aufgenommen.
HORST WITH NO NAME aka Horsti (wie ihn seine Eltern nennen) schreibt seine selbst komponierten Songs selbst, singt schön, spielt Gitarre und manchmal Fußschlagzeug und ist ein ausgezeichneter Tänzer und Autofahrer. Alle Konzerte werden live gespielt und HORST WITH NO NAME gibt dabei immer die maximalen 70%! Da ist Stimmung und Action garantiert! In Ehrlichkeit!
Mit dem Kauf eines Tickets akzeptierst Du:
– dass der Zutritt nur für Personen ab 18 Jahren gestattet ist 
– dass Junggesell:Innenabschiede keinen Zutritt haben.
– dass Du nur zur ersten Abfahrt einen garantierten Zutritt hast
– dass Du bei einem Bruch dieser und der restlichen Regeln keinen Anspruch auf eine Erstattung des Ticketpreises hast.
– sowie den Rest unserer AGBs, die Du hier lesen kannst.