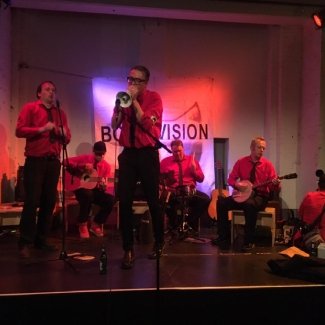 19 JAHRE FRAU HEDI UND
25 JAHRE BOY DIVISION-PARTY
BOY DIVISION & FRAU HEDI PARTY
DJs Boy Divison Soundsystem + Live Boy Division
Das Boy Division-Soundsystem wirft das strenge "Coverversionen only"-"Konzept" über Bord und feiert den DJ Freedom-Day mit Hits aus vier bis fünf Dekaden bei sechs bis sieben Musikrichtungen. Smasher von A bis Z, von
Aavikko bis Zeni Geva….
Was haben The Cure, Johnny Cash, Pixies, Rod Stewart, New Order, Prince und The Smiths gemeinsam? Sie wurden alle schon mal boydivisioniert.
Die Songs nehmen Fahrt auf und werden durch den LoFi-Garage-Punk-Fleischwolf gedreht. Alles Überflüssige landet vorher in der Elbe.
Dennoch übrig gebliebene Melodien werden durch das Megafon geschreddert.
Die laut Frau Hedi vor 15 Jahren erste Live-Band auf dem schönen Boot ist seitdem jedes Jahr dabei (file under: Tradition). In diesem Sinne: Leinen los, Megafon an!
Pressestimmen:
Herrliche Band, die mit Gitarrengeschrummel und Billig-Keyboard von "These Boots Are Made For Walking" bis "Love Will Tear Us Apart" jeden Song klein kriegen. (Rolling Stone)
Hamburgs subversivste Boygroup.
(taz Hamburg)
Hört sich an wie ein im Vollsuff gezeugter Bastard aus Eläkäläiset und Atari Teenage Riot.